Tinseltown's
Veterinary & Animal Hospital

Welcome to Forever Vets Animal Hospital at Tinseltown in Jacksonville FL where your pets are cherished like our own family members. We are a full-service animal hospital offering preventative and emergency care as well as less urgent medical treatment. Our considerate and licensed staff are committed to providing the best pet care possible while making our state-of-the-art animal hospital a relaxed, tranquil atmosphere for patients and their pet parents.
We welcome cats and dogs for regular medical exams, emergency treatment, and surgical procedures. If your furry friend needs a regular pet exam, diagnostic testing, advanced dental care, or surgery, you can be assured we'll provide the exceptional care your furry family member deserves.
Mon - Sat: 7am – 7pm
Sun: 10am – 5pm
Free Pet Exam For New Clients

Become a Member of the Forever Vets Family Today!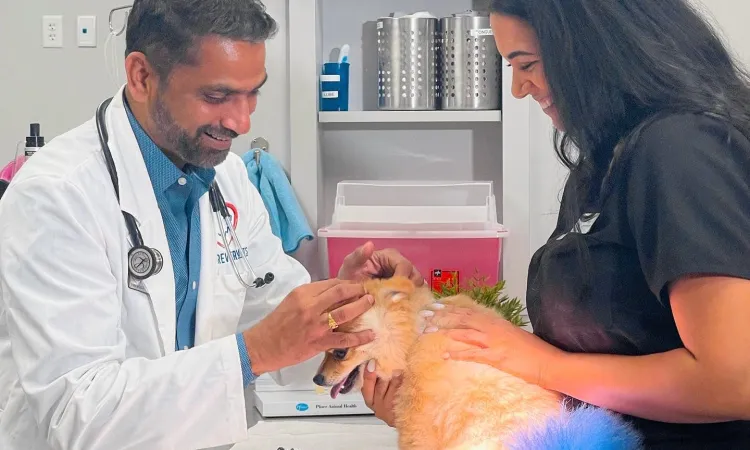 Tinseltown Address
4372 Southside Boulevard
#308
Jacksonville, FL 32216
Get Directions
Tinseltown
Animal Hospital
Tinseltown
Animal Hospital
Tinseltown animal hospital in Jacksonville FL provides preventative care to include many veterinary services to our pet patients.
From spay-neuter, vaccinations, and pet exams to flea-tick prevention, microchips, and the latest advancements in internal medicine and surgery with a lab equipped for in-house services and a surgery suite.
Tinseltown
Veterinarians
Tinseltown
Veterinarians
If you're looking for a trustworthy, caring veterinarian…look no further! Our Tinseltown veterinarians are licensed with years of experience in all types of animal illnesses and treatments.
They're dedicated to the well-being of pet patients and provide prompt medical attention when pets need immediate or preventative care.
Tinseltown
Emergency Vet
Tinseltown
Emergency Vet
If your pet presents abnormal conditions such as excessive panting or salivation, lethargy, diarrhea, allergic reactions, or animal bites are worth looking into. We can't always choose when our pets need immediate medical attention and that's why Tinseltown emergency vet In Jacksonville FL offers extended hours and welcome walk-ins.
Get help when the unexpected happens!
Tinseltown
Pet Wellness Programs
Tinseltown
Pet Wellness Programs
Our pet wellness plans at Forever Vets offer the finest, necessary preventative care at affordable prices. The wellness plans are essential and straightforward, but can you afford it? Yes. Because as veterinarians, we strongly believe in the prevention of life-threatening and debilitating diseases.
We offer Forever Vets Wellness Plans to provide long-term happy and healthy lives for your pets.