Pet Grooming Services
(only at Baymeadows, Central, and Pacetti)
Pet grooming is one of our many veterinary services for dogs and cats alike. However, cats are often more difficult to groom because of their natural dislike to water. Just as people, hygiene is important for our furry friends. Bathing, brushing our teeth, cutting our hair, and trimming our nails is an everyday part of our lives. Pet grooming is necessary and we should use the same common practice for our furry friends as we do for ourselves. Dog and cat grooming is something that many pet owners have neglected, especially if the pet spends a lot of time outdoors. Grooming is not just a luxury for our furry friends but, an important requirement for many breeds.

Our Boarding & Grooming Services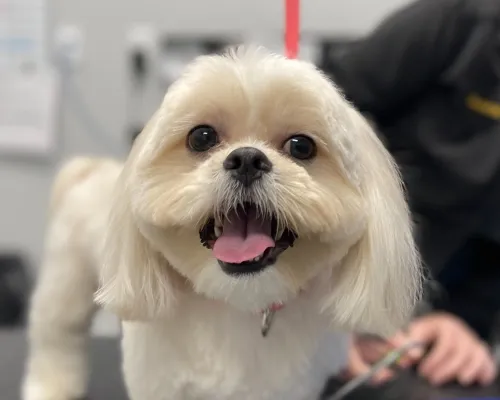 Pet Grooming keeps
Your Pet Healthy
Pets also need grooming to prevent illness such as skin diseases and parasites. Dogs and cats aren't as efficient in cooling themselves as humans, since they don't sweat through the skin. So, pet fur trimming is a crucial part of grooming to help them maintain the right body temperature. We offer:

Bathing and Grooming for Dogs and Cats

Flea and Tick Control
Spot on Treatment Deodorizing dog

Itchy Skin
Brightening Shampoo

Oatmeal shampoo with enriched nutrition

Pet teeth cleaning
Pedicure and nail grinding
More about
Pet Grooming
Don't forget that pet grooming is an important part of pet ownership. Dogs that are consistently spruced up tend to have a better and shinier coat simply because the act of brushing and combing dogs and cat's hair stimulate the blood supply to the skin. Stimulating the blood supply puts the skin, and in fact, the whole pet in better health.
Grooming packages are available at a discounted price and are determined based on the condition of your pet's coat, the size of your dog, and the time taken to groom your furry friend. Schedule your appointment today with Forever Vets at our Baymeadows location!
We do require all pets to be current on their rabies vaccinations to maintain safe environment for all pets. Rabies vaccination must be given at least 48 hours before checking in at our salon.