5 DIY Cat Toys to Make at Home
The world looks a little different. Many pet owners find themselves working from home more, and stores have shorter hours now than they did a couple of years ago. Whether you own a kitten or an older feline, keeping them entertained in any setting is crucial.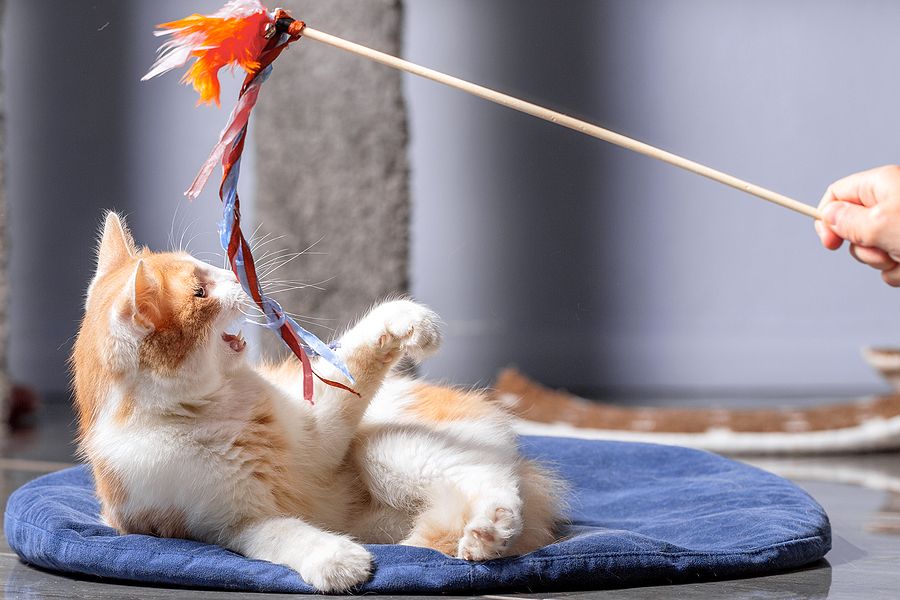 Whether you are struggling with finding time to go to the store or want to get crafty, DIY cat toys to keep them busy are a perfect solution! Here are five ways that you can DIY your own homemade cat toys:
1. The Best Homemade Cat Toy - Toilet Paper Treat Roll
A toilet paper treat roll makes for a perfect cat toy for your favorite feline and can create less waste. This cat toy is good for your cat's endurance because it tests their patience.
The supplies you need to craft this toy are already in your home; you'll need an empty toilet paper roll and a bag of your feline's favorite treats. Start by folding one end of the toilet paper roll and flip it over to pour in the treats. To finish, fold the other half in on itself and wait for the games to begin!
2. T-Shirt Cat Knot
A T-shirt cat knot is one of the best cat toys because you can make it out of old shirts that you have lying unused around the house. You can make these T-Shirt cat knots out of any shirt style, color, or material blend. These make for simple, interactive cat toys you can use again and again.
To make these, you'll start out with three shirts, and you need to make sure you cut the T-shirt up on each side along the seams. You'll need to cut these into three- by ten-inch rectangles. You'll make a pile of six strips, and you'll need to gently stretch each strip so it rolls onto itself. You'll then tie them into a knot and pull the ends tightly to ensure the knot doesn't unravel. Lastly, you'll clean up the ends by trimming them. To get the best results, spray with some catnip and let those cats get wild!
3. Wine Cat Cork
Do you find yourself with lots of leftover wine corks? Perfect, you can make wine cat corks. To start, you will need wine corks, knitting wool, a large nail, a large darning needle, a hammer, and pliers. First, make sure you have the cork on a surface that won't get damaged when you hammer the nail through, and then you'll take the hammer and nail the nail into the cork. Second, you'll take the nail out with the pliers and thread the knitting wool through the hole you just created in the cork. Finish it off by tying both ends of the knot and you're all set!
4. No-Sew Pom-Pom
No-sew Pom-Pom cat toys are perfect for the simple cat with a simple lifestyle. To make it, you will need cotton string, a 2-inch wide by 1-foot-long scrap of fleece, scissors, and catnip. Start by cutting the fleece scrap and folding it in half lengthwise. You'll then make little cuts all the way down the length of the folded fleece. Next, cut an 18-inch-long piece of string, unfold the fleece and roll it. Then tie the string around the middle of the roll; make sure to double knot if possible. Smoosh into a ball shape, and your puffy pom-pom toy is ready for playtime!
5. One Fish, Two Fish Fishing Pole: DIY Felt Cat Toys
The One Fish, Two Fish Fishing Pole is a perfect way for your cat to dive for fish and not make a mess. For this interactive cat toy creation, you will need: craft scissors, a glue gun, a needle, a paintbrush, wool blend felt, matching embroidery floss, a 16-inch dowel, an eyelet, acrylic craft paint, a cotton clothesline (or some thin rope), and catnip or a stuffier puff.

First, you will trace the fish template onto your material and pin the fish together and cut it out. Next, sew around the perimeter and stuff it. Then place the string in the mouth, sew it shut, and cut off excess thread. You can choose to add some ribbons for some added flair or keep it simple. You will need to repeat these steps if you want more than one fish for your feline fishing pole. To attach to the pole, you will need to secure the eyelet and loop the strings through to hold it in place. Now your cat is ready for deep-sea fishing! Here's a step-by-step video.
Whether you work from home or are never at home, keeping your cat healthy is the number one priority. At Forever Vets, we ensure that your feline is always taken care of. To schedule an appointment, contact Forever Vets today.